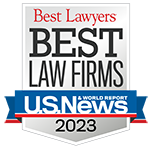 WHAT SHOULD YOU KNOW ABOUT US?
We love what we do! From our morning stand-up to the roll-up-your-sleeves late nights, we are excited and energized by the challenges we help our clients resolve. We designed our firm and office to drive intense collaboration and creative problem-solving. We also make the best Cuban café in Miami.
WHAT ACHIEVEMENT ARE WE MOST PROUD OF?
Leaving the comforts of Big Law and embracing the future of the law through mobility, collaboration, project management, and relentless process improvement. Creating a culture that puts client satisfaction front and center, and helping clients when they really need us the most.
THE FORMAL INTRODUCTION
Salazar Law advises and serves businesses and individuals confronting bet-the-company financial crises and restructurings, high-stakes business litigation, cryptocurrency challenges, or government investigations. We strive to know our clients' business, be highly responsive, be proactive in our engagements, and exceed each client's expectations. Our lawyers, who have obtained over $1 billion in judgments and settlements and restructured over $10 billion in debt, provide comprehensive strategies designed to meet our clients' goals.
THE REAL STORY
We're small — on purpose. But we are known for handling the same complex commercial and business matters as our Big Law competitors. We've accomplished that by improving how and where we work. Our office in Miami has a dedicated Zoom studio for virtual court hearings, an inspirational wall with photos of those who have faced long odds and achieved success to drive and inspire our attorneys, and an overall retro feel through modern design to ensure comfort with class.
To maximize our efficiency and impact, we've adopted a project management-based culture with Kanban boards, daily stand-up Scrum meetings, and our Lawgile® project management platform for managing client matters. Most importantly, we've chosen to work this way because it's engaging, challenging, and fun. 
THE CHEST BEATING
Winning awards isn't about ego — it's about validating leadership in your field. We have received various accolades over the years in recognition of our fine work, including listings in Chambers USA, Best Lawyers, Super Lawyers, Most Effective Lawyers, Distressed Deal of the Year, Florida Legal Elite, and many more. Our firm is minority-owned, and we regularly receive recognition for the diversity among our staff.